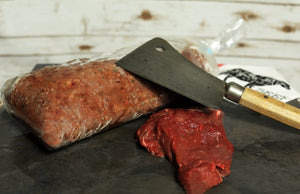 Our 5-pound beef chubs are single protein entrees. We only use USDA-certified, pasture-raised (grain finished), human-grade beef. Our ground bone comes from cuts of T-bone steaks and are a natural source of calcium and phosphorous for your dog. Our beef chubs include green tripe, which, along with many other benefits, is an amazing and highly bioavailable source of digestive enzymes and probiotics. Vegetables and small amounts of low-glycemic fruits are added to complete and balance meals. Beef heart and liver round out this amazing meal by providing essential vitamins and minerals (including iron, thiamin, Vitamins B6 and B12, and niacin).
We suggest to all our customers the additions of a NuVet (vitamin, mineral,  & amino) acid supplement as well as an omega 3 for an even more balanced diet.  NuVet and Adored Beast Phyto synergy can be found in the shop under Supplements.

Beef, Ground Beef Bone, Beef Tripe, Beef Heart, Beef Liver, Carrots, Apples, Broccoli, Green Beans, Kale, Winter Squash, Beets, Blueberries, Kelp Powder.
Guaranteed Analysis:
Min. Crude Protein – 24%
Min. Crude Fat – 16%
Max Crude Fiber – 8%
Max Moisture – 68%
Calorie Content:
3,295 kcal/kg or 646 kcal/8oz (Calculated ME)