Coronavirus Information
During this time of uncertainty about the Coronavirus (COVID-19), we know there may be a lot of things you're unsure and anxious about. However, all of us at Vibrant K9 want to reassure you that you do not need to be concerned about whether or not you'll be able to get food for your dog.
We've met with our manufacturer and continue to be in close communication with them on an almost-daily basis. They have assured us they will be able to continue to fulfill orders, and we are working continually with them as the situation develops.
Your safety and well-being, and the safety of all the people in our communities, are our top priority. Therefore, we will be shipping orders until further notice. If you have any questions or concerns, please email us at info@vibrantk9.com
Our first commitment and priority is always to you and your dog, and we will continue to work hard to make sure your needs are met.
Thank you all for your continued loyalty and support.
 The Vibrant K9 team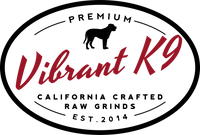 Our Mission:
Our mission here at Vibrant K9 is simple: To help 1 million dogs by 2030.
We strive to bring our customers the very best food we can as to help your dog live a long and healthy life,
We promise to always evolve with new and updated nutritional information and education and pass on any information to you, our clients. Canine nutrition is always changing and evolving. Vibrant K9 is committed to always bring your dog the very best.
We take the guesswork out of making your food so that your dog will grow to be vibrant and thriving. With over 60% of dogs in this country getting cancer (and losing 3 of our own dogs to cancer), we are especially focused on helping you to try to prevent cancer in your dog and helping pet parents who are dealing with this devastating disease in their own dogs. We want to save every single dog, and we understand that what dogs eat is one of the single biggest factors in determining how healthy they are. So, we make it easy for you to feed your dog the very best food. We are here for you, and we are here for your dog. We know, as a pet parent, you want what's best for your dog, but sometimes it can be overwhelming sorting through all the information out there. With our team's collective 40+ years of experience formulating, manufacturing, and feeding raw food, you can feel confident you're giving your dog everything they need to thrive. We will always be transparent with respect to our food, processes, "complete and balance" with regards to updated information in nutrition and any additions your dog may need to meet their specific nutritional needs.
Our goal is to help 1 MILLION dogs by 2030.
Vibrant K9