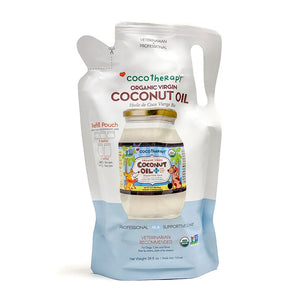 Single: 1 refill pouch (24 oz/710 ml foil pouch)

Our bestselling Organic Virgin Coconut Oil is now available in a larger, economical 24 fl. oz / 710 ml refill pouch!  Our pouch is made of eco-friendly, recyclable, food-grade foil that is kind to the environment. 

CocoTherapy Organic Coconut Oil Refill Pouch for dogs and cats is an excellent value and perfect for homes who use organic virgin coconut oil for everything!  Great for multiple pet households, our coconut oil is 100% human-grade so we also use our premium coconut oil for ourselves – for cooking, baking, first aid, the list is endless.

CocoTherapy® Organic Virgin Coconut Oil is made from the purest, fresh organically grown coconuts. The coconuts are grown in a USDA certified organic coconut farm.

CocoTherapy Organic Virgin Coconut oil is pure and natural:


Non-GMO (genetically modified organism)

Cold pressed

Hexane-free

Unrefined

Non-bleached

NO trans fat

NO hydrogenated fat

Our 24 oz Refill Pouch is Perfect for:


Multiple pet households

Large dogs

Professional Use: Groomers, Breeders, Boarding Kennels

Veterinarians

To dispense:
1. Place un-opened foil pouch in a bowl of warm water until coconut oil is liquefied.

    DO NOT MICROWAVE FOIL POUCH

2. Cut pour-spout following printed cut-guide.
3. Pour in a clean, dry glass jar.

TIP: Fills 3 – 8 oz oil jars or 1.5 – 16 oz. oil jars.

Recommended amount to give: 1 teaspoon (5ml) per 10 pounds (5kg) of body weight, or 1 tablespoon (15ml) per 30 pounds (13.6 kg) of body weight. Start slowly, for example, start at a quarter of this and build up slowly. Use similarly for cats and other animals.

Calorie Content:


40 kcal in 1 tsp (4.5 g)

120 kcal in 1 tbsp (13.6 g)

Our favorite way to give: Simply place a tsp or so in the cupped palm of your hand and let the warmth of your hand melt the oil. Then let your pet lick the oil directly from your hand! Our pooches and kitties love it, and what a wonderful way to bond! As with all new supplements, start with small amounts, such as 1/8 - 1/4 teaspoon per day for small dogs, puppies, cats and kittens and 1 teaspoon for large dogs. Gradually increase the amount every few days.

Packaging: 24 fl. oz / 710 ml Stand-up foil pouch

As always, before giving any new treat or supplement, talk to your holistic veterinarian about incorporating coconut oil and coconut into your pets' diet.