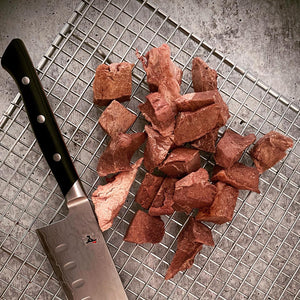 Our grass fed/grass finished, pastured raised beef hearts make an excellent treat, but also supplements their species appropriate diet.  Our treats retain 94%-98% of its nutrition due to the freezing drying process.   Beef heart is a super food that is a single protein of muscle meat.  Its high in enzymes, elastin, collagen, amino acids and fatty acids.
Beef heart can help support the basic function of cells, supports healthy joints, help to build muscle,  increase energy,, help with inflammation,  and help to build muscle.
All product sourced and manufactured in the USA.
Per 1 oz = 31 kcal/lal
Total Fat =   1.1g
Vitamin A  0%                        Vitamin C  1%        Pantothenic Acid  5%                     
Thiamin  4%                           Iron  7%
Niacin  11%                            Riboflavin  15%
Phosphorus  6%                     Magnesium  1%
Copper  6%                             Zinc  3%
Vitamin B6  4%                       Vitamin B12  40%