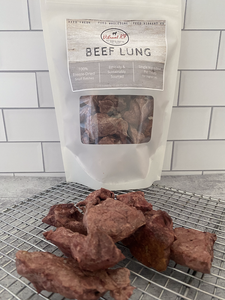 Introducing Vibrant K9 Freeze dried beef lung that is from pasture-raised cattle. The cattle are all grass-fed and grass-finished. They are hormone, GMO
 and pesticide free. This is a single protein product of 100% beef lung.
Lung from the bovine is a substantial source of vitamin B12, Vitamin A, folate, and choline for your four-legged friend.  Beef lung may assist in everything from lung function to digestive health to brain function. 
Per 3.5 Oz: