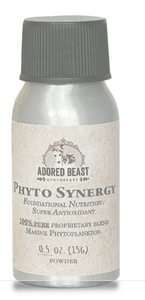 Did you know fish oil is a heat treated, processed food? Most fish oils are rancid before they hit the bottle and every time you open the bottle, the fat oxidizes more and more, creating inflammation ... which is probably why you're giving your dog fish oil in the first place!
Phytoplankton is the foundational source of nutrition for the ocean. Fish get all the omega-3s they need from it. These omega-3s are the same essential fatty acids your dog needs. The great thing is that by feeding your dog phytoplankton, you can avoid rancid fish oils, heavy metals, radiation, BPAs, mercury and other problems found in fish and fish oils.
The Phyto Synergy blend contains extraordinary amounts of Super Oxide Dismutase molecule, known as the "king of the antioxidants" and the "molecule of life."
Adored Beast Phytoplankton is grown sustainably on land and is environmentally ethical.
Uses
Phyto Synergy is 100% pure marine phytoplankton - complete nutrition that absorbs and resonates with the body's synergistic process. When you incorporate it as part of your animal's daily food, you are supporting their entire body, overall health, and longevity.
Phytoplankton is a whole food, not a supplement!
This incredible single-celled organism offers trace minerals, chlorophyll, essential amino acids, DHA, EPA, protein, carotenoids, antioxidants, amino acids and other nutrients.
Just a few of the areas that phytoplankton can target:
skin health
mobility/joint health
improved cellular function (healthier organs)
decreased inflammation
digestion support
increased energy
decreased hyperactivity
decreased anxiety
detoxification
Directions
Give 1/16 tsp (half of the spoon provided) once per day regardless of the size of your dog. Can be mixed into food.
How Long Will It Last?
Phyto Synergy 15g contains approx. 45-50 servings.
Phyto Synergy 32 gram contains approximately 90-100 servings. Store in a cool, dry place.
Please select the size you'd like using the selection box at the very top (we offer both the 15 gram and 32 gram sizes).
Ingredients
100% pure proprietary blend of Marine Phytoplankton